UX/UI THE KEY FACTOR BUILDING CUSTOMER EXPERIENCE
In the digital age, with the explosion of smart devices and smartphones, UX/UI plays a crucial role in reshaping the customer experience journey, aiming to leave an impression and enhance customer satisfaction from the initial touchpoints, especially on online platforms. As a result, brands and businesses have a foundation to develop and extend their products and services closer to consumers. Let's explore UX/UI with M&M Communications!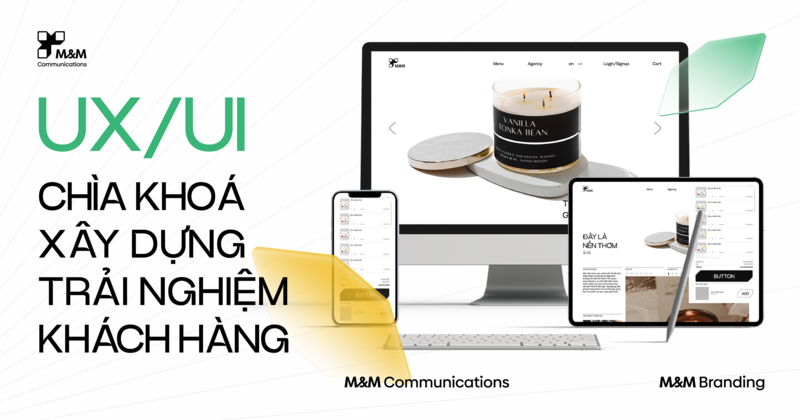 1. What is UX/UI?
"UX" is a Marketing term, an abbreviation for "User Experience", which refers to customers' overall experience and perception when interacting with a brand's platform. UX has the task of assisting the brand in providing engaging experiences for users and leaving a mark in their minds. This is a factor that can influence customer behavior, leading to purchases and fostering the opportunity to become loyal brand customers .
"UI" stands for "User Interface". While UX focuses on user perception, UI concentrates on aesthetics, design, and the overall visual appearance of products as well as website interfaces,... To best complement UX, designers need to emphasize aspects like typography, layout, images, content, calls-to-action (CTAs), color schemes,..., all of which contribute to creating consistency and highlighting the brand's personality and message.
2. The importance of UX/UI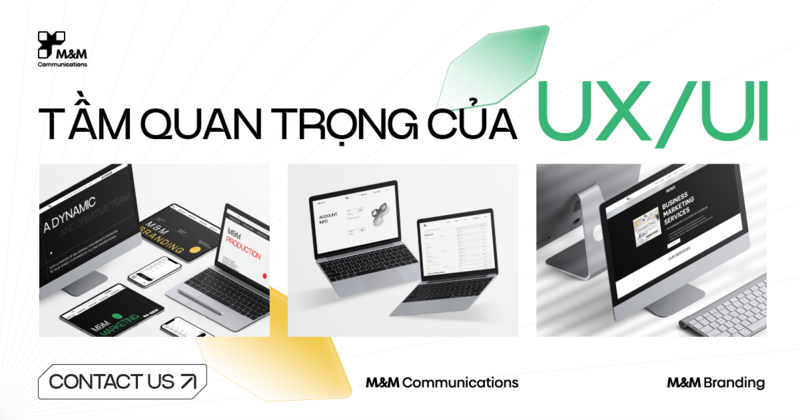 a) Impress at first sight
According to a study, the first 7 seconds can determine an individual's perception of an issue or something. This means UX/UI are a complementary pair that supports each other in every aspect when customers interact with the brand's platforms. In this context, UI is a "golden key" to attract users with an impressive interface in the initial moments. A few seconds later, the next crucial factor for user retention is the interaction and user-friendliness of the platform's features (UX).
b) Increase website visits
If brands can make a strong impression, they also have a powerful ripple effect that makes other users access e-commerce platforms. To measure the coverage of an application or website, you can examine it via metrics. If website visit time is excessively short or the traffic gradually declines, the result indicates that UX/UI need improvement in terms of visuals, interface, or optimization of interaction steps. Therefore, an attractive design that brings a quality user experience will increase website visitors (traffic), decrease the bounce rate and contribute to the brand's successful customer journey development..
c) Make a difference for the brand
In the era of rapidly advancing technology and the ubiquitous presence of applications, brand identity no longer remains confined to surface elements such as logos or slogans. To make customers quickly remember the brand, user experience, interaction and the brand's uniqueness are factors that directly affect the user's mind, creating an unforgettable impression. Big brands such as Apple and Samsung are the most powerful companies. In interactive applications or platforms, they cleverly and distinctly apply their design thinking to UX/UI, creating a balance of simplicity, coherence and appeal.
d) Increase profits
In E-commerce companies such as Amazon, Shopee, Taobao, etc.., a prime example of an effective user experience is the feature that automatically introduces similar products. This helps the R&D, Sales and Marketing teams in saving time to concentrate on developing other potential products, leading to increased profit and reduced advertising costs. Moreover, UX/UI also influences users' purchasing decisions, determining whether to proceed to the final step of making payments on e-commerce platforms.
UX/UI Design with M&M Communications
In addition to Marketing services such as Branding, Social Always-on, M&M Communications also designs UX/UI for multi-field brands, giving consumers a deep impression and an unforgettable experience.
Bring high efficiency
M&M Communications has a young, dynamic, enthusiastic and industry-qualified team that helps businesses research, evaluate and come up with the most appropriate UX/UI design logic to bring the brand's colors closer to consumers.
Efficiency is evaluated through brand coverage and outstanding growth in the business's revenue.
Capture market trends
In the age of technology, the information explosion and user trends are constantly changing, making it difficult for SMEs to keep up with market trends.
Here, we can help you analyze and grasp trends, innovate images, brand identity, design eye-catching interfaces to reach users more efficiently, more friendly and closer.
Cost optimization
Understanding the importance of the cost that businesses need to spend to invest in a certain field, we offer affordable options packages for each business.
Limit risk
The services provided by M&M Communications will help businesses minimize risks when executing unsuccessful campaigns. A team with expertise and practical experience in many different industries will help businesses implement marketing campaigns in the most effective way.
Contact M&M Communications for advice and quotation suitable for your UX/UI needs!
Form to fill in the required information: CLICK HERE