BUSINESS MARKETING SERVICES - THE SPRINGBOARD TO SUCCESS FOR YOUR BRAND

It is hard to deny the importance of Marketing services in the age of digital, where everyone owns smartphones and various electronic devices. A well-rounded communication strategy becomes the springboard for the brand, bringing products and brand reputation to the target customers through two main forms: Online and Offline.
Furthermore, comprehensive Marketing services also encompass various other fields: brand identity, commercial filmmaking, overall communication strategy, social always-on, etc. Depending on the development stage and needs of the business, the choice should be made according to suit the circumstances.
1. The Importance of Marketing Services in Brand Development.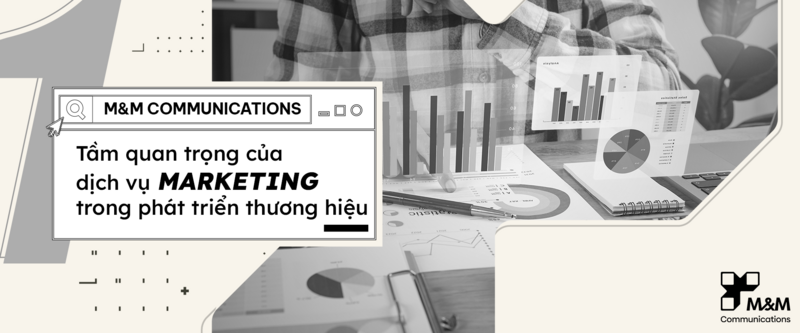 In the current era of intense business and competition, no matter how excellent or outstanding your product or service may be, you cannot rely solely on "good wine needs no bush" to attract attention. In order to make your brand and product known widely, boost sales and profits, and differentiate yourself from competitors, business owners are compelled to seek the support of marketing services.
a) The Role Of Marketing In Branding

Increasing Brand Recognition
It's not just about a well-designed logo or a memorable slogan; a brand identity represents the brand and the company's philosophy, conveying a consistent message to all customers, partners, and employees throughout the system. Therefore, how to use the brand identity effectively to achieve the best results is a challenge that every business needs to find a solution for.
Understanding Competitors and Developing a Suitable Strategy
To have a sustainable development plan, businesses need marketing consulting to devise a flexible and appropriate strategy. Understanding who their competitors are and what they are doing is crucial. From there, businesses can learn from their competitors, absorb and adopt good practices, and avoid the pitfalls.
The ultimate goal and the top concern of any business is to generate profits, ensuring the company's survival and positioning in the market.
b) Common Challenges Businesses Face In Brand Promotion

Brand promotion is a process that requires a lot of effort and persistence. Along that journey, businesses will encounter numerous challenges. Below are some typical examples:
The brand has not been widely recognized.

Lack of a clear strategy, and the quality of marketing activities is not high.

Not fully understanding and leveraging the advantages of different social media channels.

Unable to achieve a high conversion rate.
2. Comprehensive Marketing Solutions From M&M Communications.

As an agency specializing in comprehensive marketing services, M&M Communications not only helps businesses solve complex communication challenges but also develops them in the most "wow" way.
Marketing: At M&M Communications, we offer a diverse range of marketing services and solutions with the desire to create sustainable development value and increase brand visibility to consumers. Learn more about our marketing services: Here
Branding: Building a brand identity is essential for every business to establish recognition in terms of image, significance, and value. Learn more about our branding services: Here
Production: A high-quality commercial film will effectively boost the brand and promote products. The most crucial aspect is choosing the right production company. Learn more about our production services: Here
Contact M&M Communications for consultation and a suitable price quote for your business's marketing needs!
Fill out the information request form: CLICK HERE